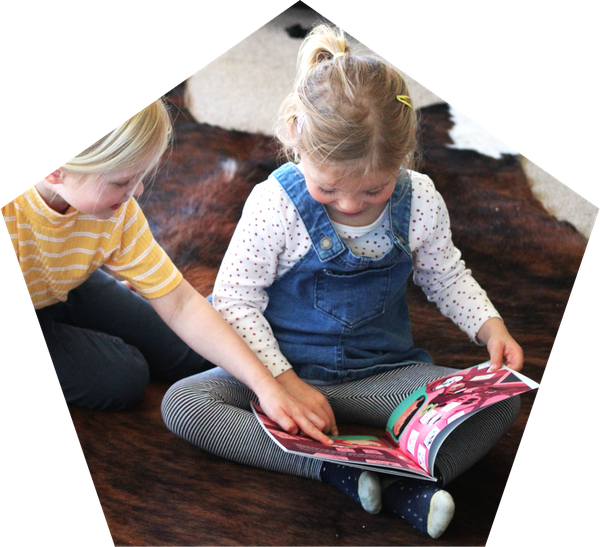 Helping Perry 
on his journey
Your child appears alongside the book's main character, Perry. They help him through his experience by sharing ideas and activities to do together. This develops practical tools to carry into their own real-life situations and the confidence to tackle the challenges that lie ahead.
The amazing 
power of
 personalisation
Our books are personalised for each child online and written for ages 2 - 7.

Personalisation fosters deep neural activity in the brain, making it the perfect way to involve and engage your child as they star in their own special story.
Here's how it works ...
1. Instant Association
Your child sees themselves as a character in the book. They're at the heart of the action, driving the story forward.
2. Empowerment and ownership
As your child sees their character taking a leading role in the book, they form a stronger relationship with the story and its messaging.
3. Increased learning
When your child encounters personalised content, they are better able to absorb the information and ideas presented.
4. Let's not forget, it's fun!
Children love being the star of the show. Sharing their joy makes your heart smile!
Ideas and activities
Practical ideas and activities are demonstrated throughout the story. You can adapt these techniques to your own real-life situations.

At the back of each book is a page just for the grown-ups. This explains what your child's needs and concerns may be and shares ideas for how you can support them through each challenge, change or milestone.

With a little extra help during these big moments, a daunting experience can become an empowering one. We like to think of it as putting a rainbow in every cloud!
Our experts
Nathan Wallis
Neuroscience Educator and Director of X-Factor Education New Zealand
Nathan Wallis is a neuroscience educator and Director of X-Factor Education. He has a profound reputation as a speaker to sell-out crowds, delivering insights into the workings of the human brain and how it develops as we grow. He is a grandad, dad and foster-dad to many children of his own.
Abby Linn
Registered Play Specialist and Director of Creative Coping
Abby Linn is a Registered Play Specialist and Director of Creative Coping Limited, with qualifications in Psychology, Child and Adolescent Mental Health. She has worked with children for over 20 years and is a mum to three of her own.
How to create your book
Select your topic
Pick from the range of stories that help you and your child through the challenges, changes or milestones you 
may be facing.
Personalise
 your book
Bring your story to life! 
Add your child's name, 
pick their character avatar and write a special dedication just for them.
Get your book
We'll print, ship and deliver your personalised book. While you wait, download a digital version to start reading straight away.
Story time
It's story time! Snuggle up with your little one to read their special story and figure out how to navigate some of life's little bumps in the road.